From July - September 2020 I had the great pleasure of serving as musical director (although I prefer the term 'performance doula') for Ragnar Kjartansson's The Sky in a Room, which took place in the stunning church of San Carlo al Lazzaretto in Milan. Having been transformed by this piece when I played in it myself three years ago, it was a profound joy to be able to facilitate its rebirth into the world with a wonderful new group of performers.

Performers: Serena Erba, Kleva Metolli, Alessandra Bordiga, Zhou Fang, Yukiko Aragaki, Fausto Caricato and Francesco Leineri
Lilja Gunnarsdóttir, studio manager for Ragnar Kjartansson
Barbara Roncari, production manager
Produced by Fondazione Nicola Trussardi
Curated by Massimiliano Gioni

https://www.fondazionenicolatrussardi.com/en/mostre/the-sky-in-a-room-2/
https://www.nytimes.com/2020/09/18/arts/design/ragnar-kjartansson-milan.html



Performer: Serena Erba


●


Arïanna: Liefde Zonder Grenzen
A production by Podium Mozaïek and World Opera Lab

Director: Miranda Lakerveld Composition: Aspasia Nasopoulou, Kaveh Vares, Haytham Safia Singers: Aylin Sezer, Sinan Vural, Shwan Sulaiman, Sophie Fetokaki, Youmni Abou al Zahab Dancers: Nyanga Weder, Vanessa Felter Haytham Safia Musicians: Haytham Safia (ud), Wim Dijkstra (organ), Tara Kumar (cello), Osama Mileegi (percussie), Vincent Martig (klarinet) en Emmy Storms (viool) Set: Makers Unite Video: Amjad Hashem, Gandy Mansour, Jaap Dankert Boventiteling: Mattias Konecny, Kavita Huizing and Rozemarijn Tiben (libretto translation) Light: Bart van den Heuvel Costumes: Jantine Kraaijeveld Make-up: Carol Zaraï Korver, Armine Vardanyan Assistant director: Anne-Lieke Terpstra, Yousef Al-Kabra Coaching Afro-Surinamese song: Black Harmony Producer: Jasper Berben

https://www.podiummozaiek.nl/arianna#over-de-voorstelling







●


The Resurrection
for the eavesdropping end-of-season playlist

Holy week on Thassos, an island just south of the Eastern Macedonian mainland. Since congregating is forbidden, religious services are held behind closed doors, delivered by two or three priests and amplified via megaphone speakers mounted on the outer walls of the church.

On Good Friday, the bells perform an exquisite work of durational performance art, pealing out the three tones of a minor triad, one tone every four seconds, for six hours.

On Easter Sunday, a shortened version of the liturgy, roughly one hour long, resounds throughout the village.

On Monday, I go to the hills.




●


Performance at eavesdropping concert series, curated by Juliet Fraser
Oxford House, London
January 24th, 2020



photos by Nayari Cepeda



Live recordings by John Croft and Chiaro


●


BEYOND THE BOUNDARIES OF INTIMACY
An album of music by Frank Denyer on which I had the honour of singing with Juliet Fraser (voice) and Jos Zwaanenberg & Carlos Anez (flutes) in Two Female Singers and Two Flutes (2013). Out on Another Timbre, Nov 2019





●



LUNCH / HÁDEGISVERÐUR
Devised during the 'Northern Creation' Residency of the Northern Network for Performing Arts
Tjarnarbíó, Reykjavík
October 25th, 2019
with Erlend Auestad Danielsen (NO), Anni-Kristiina Juuso (Sápmi), Mari Keski-Korsu (FIN), Emma Langmoen (NO), Júlía Mogensen (IS) Riikka Vuorenmaa (FIN) and Jacob Zimmer (CAN / WHITEHORSE)
More information: northernperformingart.com/projects/




Photos and trailer by Christoffer Collina

●


Hringflautan / Circleflute
collaboration with Þráinn Hjálmarsson, Brynjar Sigurðarson and Veronika Sedlmair
with Björg Brjánsdóttir, Melkorka Ólafsdóttir, Steinunn Vala Pálsdóttir and Berglind María Tómasdóttir
October 25th, 2018
www.cycle.is

Click here for full documentation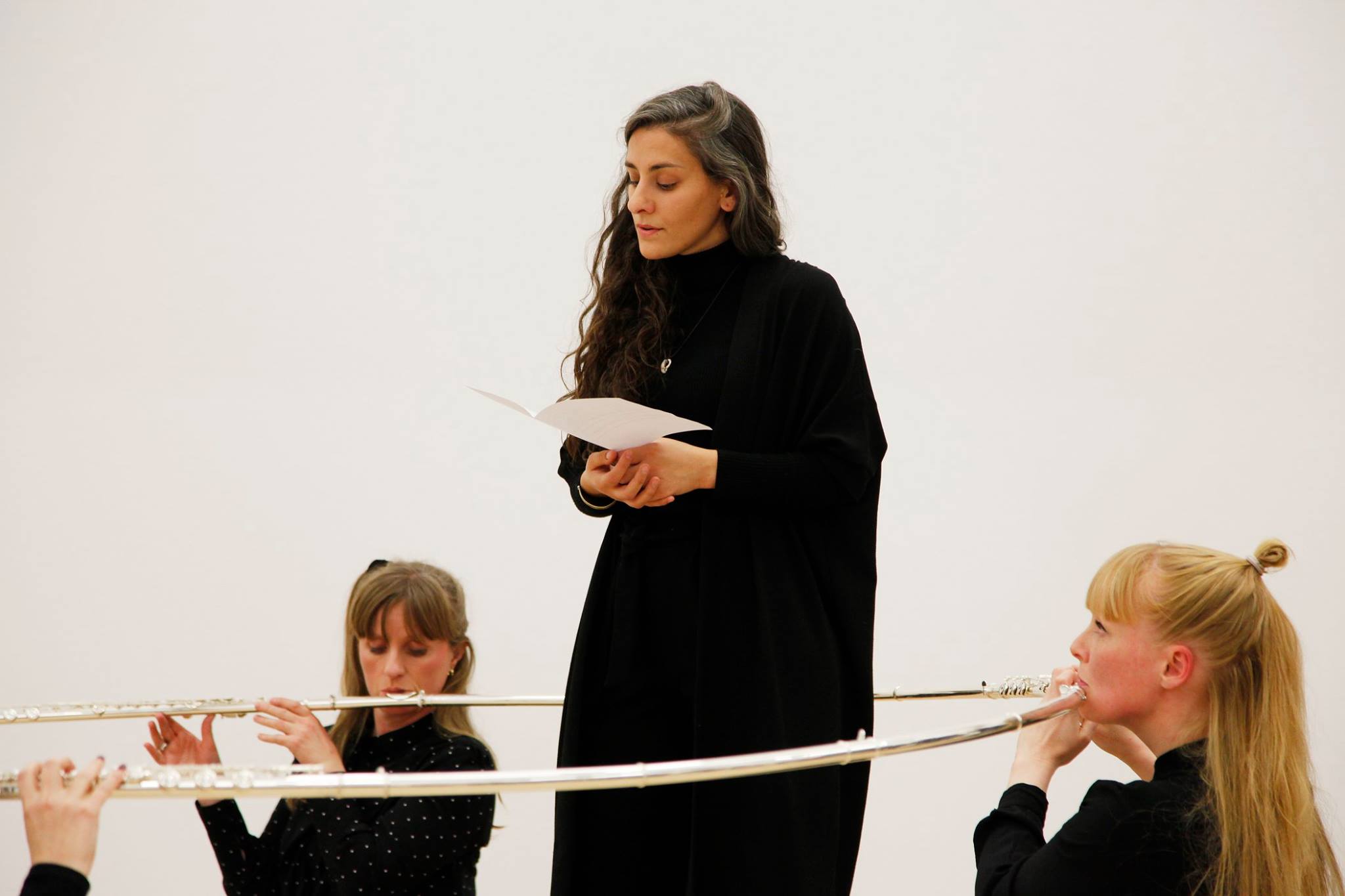 ●



αἰ αί / æ æ / ay ay — a few pieces about words, and other things that fall apart
September 21st, 2018
Perdu, Amsterdam, Netherlands
https://perdu.nl/en/archief/avonden/r/seizoensopener18/





●


SONG CYCLES
Koilani, Cyprus
August 13th - 19th 2018

Click here for full documentation.




Photo by Emma Louise Charalambous


●


Singing folk songs at Feggaros Music Village, Kato Drys
June 21st 2018





●


Reading Emily Dickinson
Mengi, Reykjavik, Iceland
June 29th 2018



Photo by Steinn Þorkelsson


●


Singing some Greek folk songs at a release of books by Anne Carson and Ragnar Helgi Ólafsson
Einar Jónsson Museum, Reykjavík, Iceland
June 28th 2018






●


Meta/morphē
Click here for full documentation.





●


QUAD
Samuel Beckett
April - May 2018 (series of performances in locations around Huddersfield)
November 2018 (Huddersfield Contemporary Music Festival)

For full documentation click here.



Photo by Sam Gillies


video filmed by Lynette Quek


●


DAYS OF SILENCE
by Haukur Þór Harðarson
with Ensemble Caput, recorded live at Norræna húsið, Reykjavík, Iceland on February 18th, 2018
http://nordichouse.is/event/1515-tonleikasyrpan-tonskaldin-ungu/
soprano




●


THE SKY IN A ROOM
art work by Ragnar Kjartansson
commissioned by Artes Mundi
February and March 2018
https://inews.co.uk/culture/arts/ragnar-kjartannson-sky-room-national-museum-wales-review-moments-hypnotic-transcendence/
www.theguardian.com/artanddesign/2018/feb/02/ragnar-kjartanssons-five-week-marathon-of-music-the-sky-in-a-room-review



photo by Gareth Phillips




Ragnar Kjartansson - The Sky in a Room from Ragnar Kjartansson on Vimeo.



●


THE LOINPRES, OR HOW TO SURRENDER YOUR WILL AND YET TO WRITE
December 2017
Perdu, Amsterdam, NL
https://www.perdu.nl/en/archief/sophie-fetokaki/r/poezie-en-mystiek/





●


ReFeRe
radioplay/electronicopera/installation by Thomas Myrmel
The Warp at Kunstkapel. Amsterdam, NL
October 2017
www.rabotnik.dds.nl/thewarp/wordpress/day-ii-in-retrospect/






●


SVIOLONCELLO
September 2017
Amsterdam Fringe Festival, NL
made and performed with Brice Catherin and Robin Jousson
http://amsterdamfringefestival.nl/programma/svioloncello/




●


άκ02: SONOROUS BODIES
August 2017
voice, vibraphone and diffusion
Thkio Ppalies
Nicosia, Cyprus
www.thkioppalies.org/Sonorous-Bodies





●


IMPROVISATION on το γιασεμί / the jasmine tree
recorded in the church of παναγία γαλακτοτροφούσα / the nursing madonna
August, 2017
Mathiatis, Cyrpus
with Brice Catherin




●


RA…PATSIA…OU…
opera by Andys Skordis
October, 2016
Dancehouse Lefkosia
Kypria Festival, Cyprus



with Elli Aloneftou
Photo: Silvio Rusmigo


●


HARNESS
September, 2016
Oostblok Theater
Amsterdam Fringe Festival, NL
Knot Applicable
members: Vera Goetzee, Dasinya Sommer, Mei-yi Lee, Sophie Fetokaki
music: John Cage Ryoanji (1983-83)
http://amsterdamfringefestival.nl/en/programma/harness/
Review in Theaterkrant (Dutch): www.theaterkrant.nl/recensie/harness/knot-applicable/
English translation: knotapplicable.wordpress.com/press-2/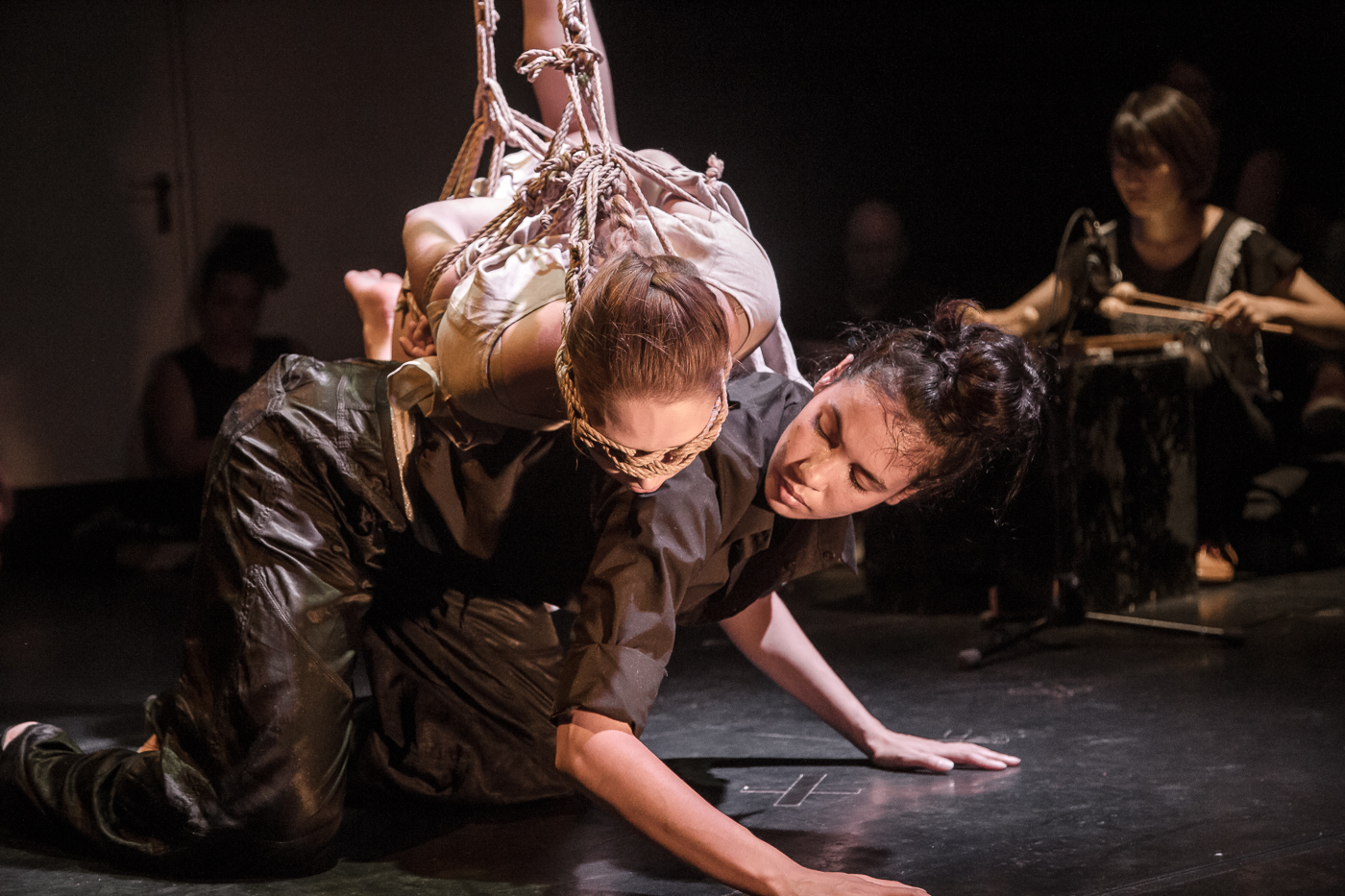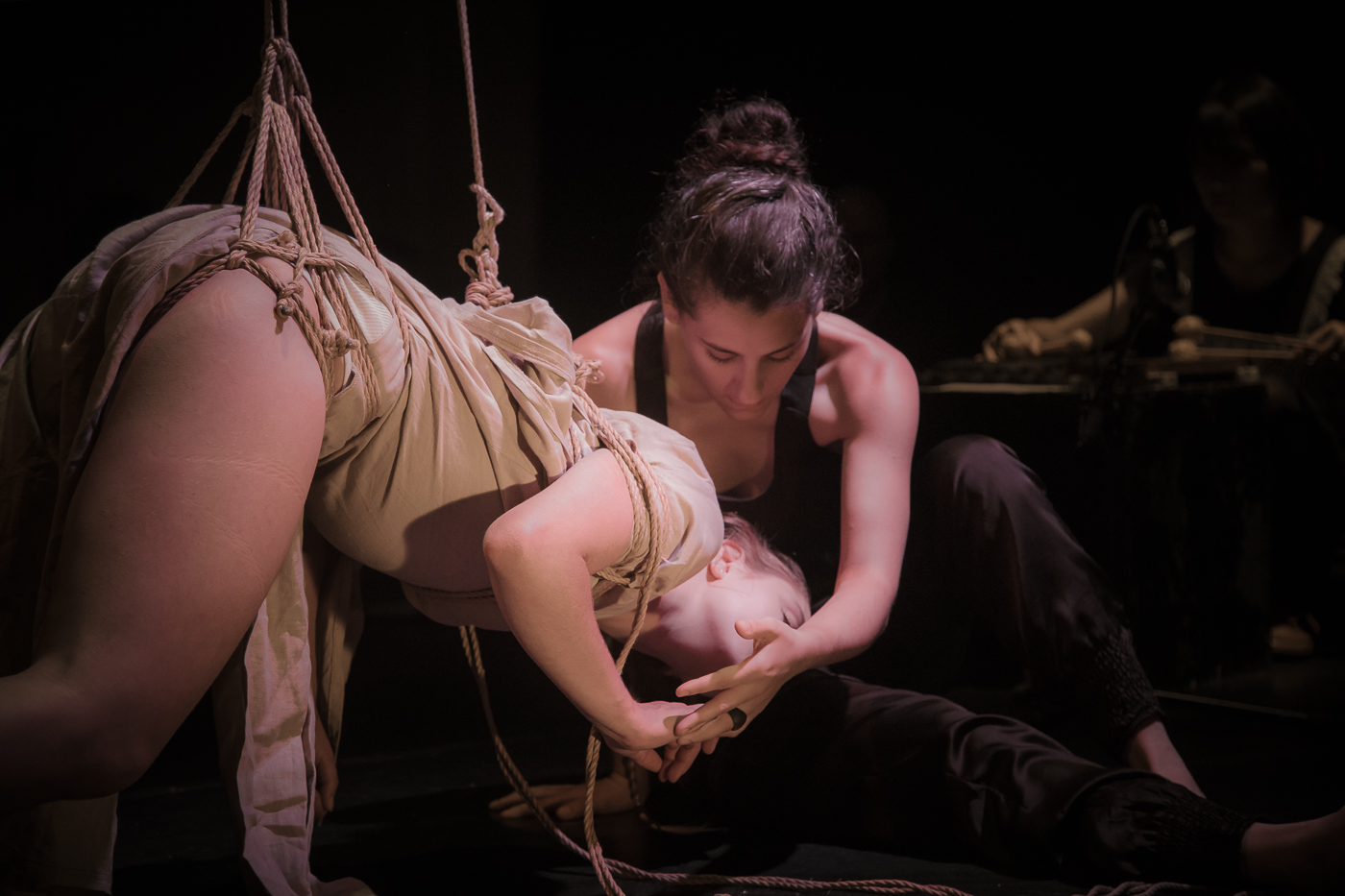 photos by Kasper Vogelzang


●


LUCI SERENE E CHIARE with ENSEMBLE HIMEROS
September, 2016
Utrecht Early Music Festival, NL



photo by Kasper Vogelzang
more photos here
performers: Vera Goetzee, Emilio Aguilar, Marie Théoleyre, David Mackor, Andrés Locatelli, Lucía Caihuel, Sophia Patsi, Bram Trouwborst, Miron Andres, Mariano Boglioli


●


DUET FOR TWO POETS
for two poets in two different locations, and audience
Mia You performing with Jane Lewty (absent)
DoorKruising June, 2016
Dokzaal, Amsterdam
photo by Kasper Vogelzang






●


THEATRE OF THE WORLD
opera by Louis Andriessen
with the Dutch National Opera, conductor Reinbert de Leeuw director Pierre Audi
L.A. Walt Disney Concert Hall, May 2016 (with L.A. Philharmonic)
Amsterdam Carré Theatre, June 2016 (with Asko|Schönberg)



May 2016, Walt Disney Concert Hall, Los Angeles




June 2016, Royal Theatre Carré, Amsterdam
with Leigh Melrose, Ingeborg Bröcheler and Charlotte Houberg


●


DoorKruising, January 2016
Zaal100
Amsterdam
supported by: